About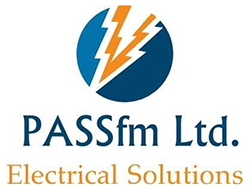 Based in Newton Aycliffe, PASSfm are industry-leading registered electrical contractors providing expert electrical services across the North East and UK.
Why Choose Us?
We're a highly experienced electrical contractor based in the North East with over 150 years of experience between our team, we help private and public sector companies nationwide to achieve 100% electrical compliance.
We have the skills and scope to service a range of company sizes, from small factories to large medical centers, we are the go-to electrical contractors.
What Our Customers Say
Our customer reviews speak for themselves, with clients ranging from River Island and Dulux to Durham County Council, we're proud to have established ourselves as an excellent commercial and industrial electrical contractor.
According to our customers, we're one of the most stand-out professional electrical companies in the North East.
Industry-Wide Experience
Based in Newton Aycliffe, we're one of the most experienced electrical companies in the North East, having serviced countless local and nationwide businesses.
From Newcastle to Sunderland, we offer a wide range of local electrical services across County Durham, Darlington, Stockton-on-Tees, and the whole surrounding areas of Northumberland and Tyne & Wear.
Services
EV Charger Installation
Working towards decarbonisation with renewable energy and electric vehicle charging is at the heart of what we do. Our mission is to drive Project EV and its range of Electric Vehicle chargers to being the most advanced smart solution for all customers, resellers or manufacturers.
PAT Testing
Our PAT testing electrical services help businesses across the North East and the UK achieve the highest standards of electrical health and safety compliance, ensuring that your staff and your business aren't harmed by faulty electrical equipment.
Periodic Inspection
Our periodic electrical inspection and testing services are a necessity for maintaining a safe workplace whatever your business' industry. Naturally, electrical installations deteriorate over time making it essential to keep on top of fixed wire testing and inspection to eliminate any potential causes of harm.
Thermal Imaging
Our engineers conduct thermal imaging surveys giving you invaluable information, data and results that enhance preventative maintenance effectiveness and problem solving/diagnostics.
Emergency Lighting
Our fully managed emergency lighting servicing provides vital support for your business so that you can be confident that your emergency lighting is reliable and meets mandatory fire safety guidelines in case of an unexpected emergency.
Energy Reduction
At PASSfm we aim to help owners and occupiers of commercial buildings, homebuilders & contractors to reduce their energy consumption.